Call Now to schedule an
estimator to visit your project
Request a jobwalk online →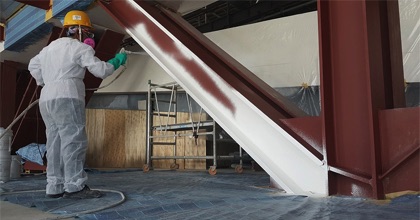 Phoenix Construction specializes in hard to reach projects on occupied premises. Our crew can fit and handle the right equipment for your special needs project.
You can be confident that your project will be completed in a professional and timely manner. We make sure to leave the premises clean and protected. We look forward to working with you and providing the quality service that you need for your project.
Besides intumescent fireproofing, we also spray cementitious fireproofing.
• Retroguard
• Spattercoat
• Southwest 5GP
• Southwest 7GP
• Pyrocrete
• Cafco 300
• ... and more
• Thermo Lag
• A/D FireFilm III
• Spattercoat
• SprayFilm WB
• ... and more
Our structural steel fireproofing division can tackle small to medium jobs. We cater to new jobs, remodels, retrofittings, and patchings.